Hale Barns Seconds have booked their place in the Division 2 East/West final, where they will take on Didsbury CC this Sunday.
Boasting a 12-point lead at the top of the table, skipper Tom Entwistle is confident that the team can complete the short but sweet 2020 campaign in style.
"It was looking bad earlier in the summer when we thought we weren't going to play at all, so it's been a relief to get some form of cricket in," he said. "We've had strong teams most weeks and I would think we've had some of the best availability across the league, which has obviously helped.
"Over the past three years, we've really progressed as a team. In 2017, we got to the final of the T20 Cup, got promoted from the Cheshire Cricket League the year after and then finished fourth last season in the County League.
"We've got a lot of good young players, combined with established experienced guys, so we've got a great balance.
"Everyone at some point in the season has made a key contribution, so it's not just been one or two players doing everything, although Sanjeev Bhatia and Jack Wylie have been the standouts."
Barns set the tone for their impressive season with an improbable victory over Ashton-on-Mersey CC at the end of July, remarkably defending a low total by three runs after AOM had required just nine with five wickets in hand.
"We were missing a few players in the opening couple of games and we really pulled a win out of the bag against Ashton-on-Mersey, which was huge," said Entwistle. "You don't usually defend 96, especially when they were cruising like that.
"Wylie and James Guest came on at the end and won it for us, which gave us a real lift and showed the importance of fighting until the end. We were a couple of close games away from back-to-back promotions last year, so it was great to gain belief early on that we can win those sorts of matches."
A blip in week two at Tattenhall CC was quickly rectified with a solid win against Neston CC, followed by a double-points six-wicket rout against Widnes CC. Barns have also benefited from 12 points being awarded by other sides conceding, although they proved their status as the top team in the league by convincingly seeing off nearest challengers AOM at the end of August.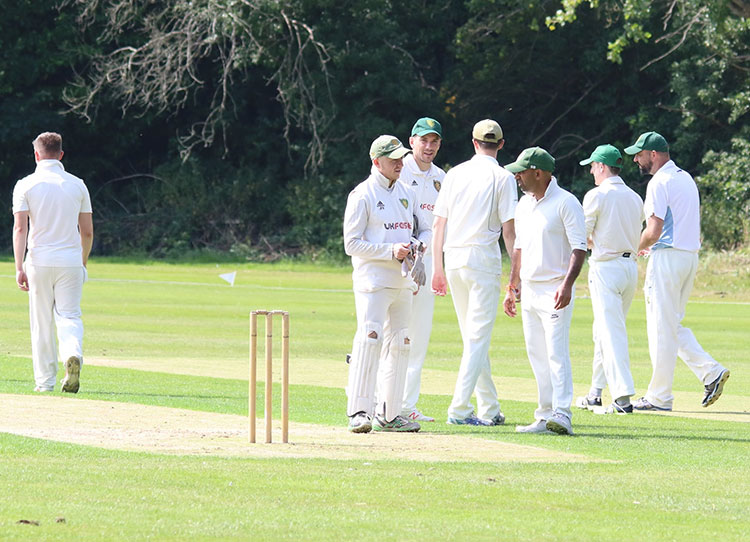 Entwistle added: "Bowling has probably been our best facet. Wylie is leading wicket taker in the league, Ross Dunleavy has been superb and Charles Mills has done well opening the bowling, as well as bowling at the death a few times, which is good for his development. Guesty got a five-wicket haul a few weeks back and Callum Schora has also been a consistent option for us.
"We've even had Danny (Kelly) come in and grab a few wickets and Charlie Glazebrook made a big impact on his debut. We've got a pool of seven or eight high-level bowlers in the Second Team squad to pick from and that quality depth has been so important.
"Batting wise, it's not been easy because the pitches haven't been great with the regular bad weather. Sanjeev is one of the top run scorers in the league and he's averaging over 50, so he's really cemented his position at number three. Clive Collins has chipped in with runs, so has Stew Reynolds and Andrew Willis has probably been our most improved player.
"Without (Mike) Hunter and JFB (James Fullerton-Batten) for a lot of the season, we needed batsmen to take responsibility for scoring runs and a few guys have really stepped up, particularly Sanjeev."
Now the team's attention turns to Sunday's final, although Entwistle is insistent that he wants his players to maintain momentum with a solid display against Neston in the regular season finale on Saturday.
"We obviously want to finish strong heading into the final," he continued. "We knew the Ashton-on-Mersey game was pretty much the league decider and we managed to win comfortably, but we spoke afterwards about how it's important to maintain standards and continue that winning feeling.
"If you lose a game, it can start to filter in bad habits, so we want to lay a marker down that we mean business and take on Didsbury full of confidence.
"We've not played them as they weren't in our league last year, so they're a little bit unknown and they're a big club, so I'd imagine they'll have strength in depth. But I feel confident that we can beat anyone if we're at the top of our game.
"It seems like we'll have strong availability for the final and actually might have a couple of tough calls to make, so as long as everyone keeps the same determined mentality, we've got a great chance."