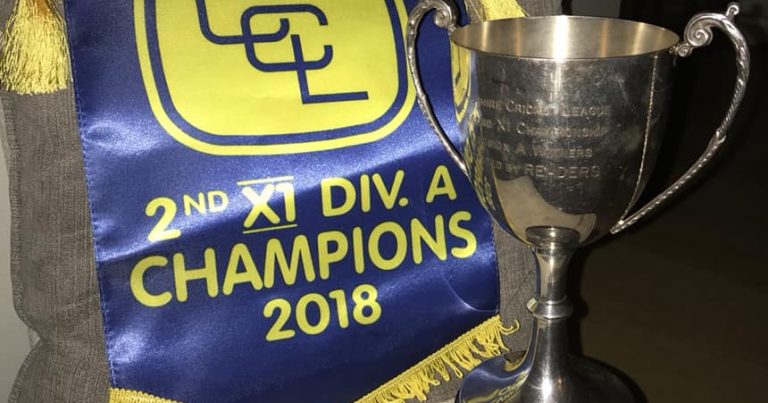 Hale Barns Cricket Club celebrated a terrific year with the Senior Awards Night 2018.
The club followed up a memorable 2017 with another stunning season, with the 1st XI winning the Cheshire Shield and establishing themselves as a secure mid-table side in the Cheshire County Cricket League Division 2.
The 2nd XI also enjoyed the taste of silverware as they charged to the Cheshire Cricket League Division A title by 52 points, which earned them the inaugural HBCC Team of the Year award, presented by Club President John Petch.
For the second season in succession, the 1st XI Player of the Year prize was shared between Ben Hicks and Joe Cooper. Young Player of the Year went to Dan Martin, while Joe Fretwell-Walsh claimed Outstanding Moment of the Year after holding his nerve in dramatic run chases in the semi-final and final to steer Barns to Cheshire Shield success.
Elsewhere, for efforts off the pitch, the Price-Settle & Glazebrook families won the Arthur Johnson award for significant contribution, while Ground Committee Chairman Ian Schora scooped the Jim Luckett Clubman of the Year for his tremendous all-round commitment to the club.
Here is the complete list of all the winners:
1st XI Player of the Year – Ben Hicks & Joe Cooper
2nd XI Player of the Year – Tom Saddington
3rd XI Player of the Year – Ahmed Choudhry
Young Player of the Year – Dan Martin
Outstanding Moment of the Year – Joe Fretwell-Walsh
Arthur Johnson Award – The Price-Settle/Glazebrook Families
Jim Luckett Clubman of the Year – Ian Schora
HBCC Team of the Year – 2nd XI