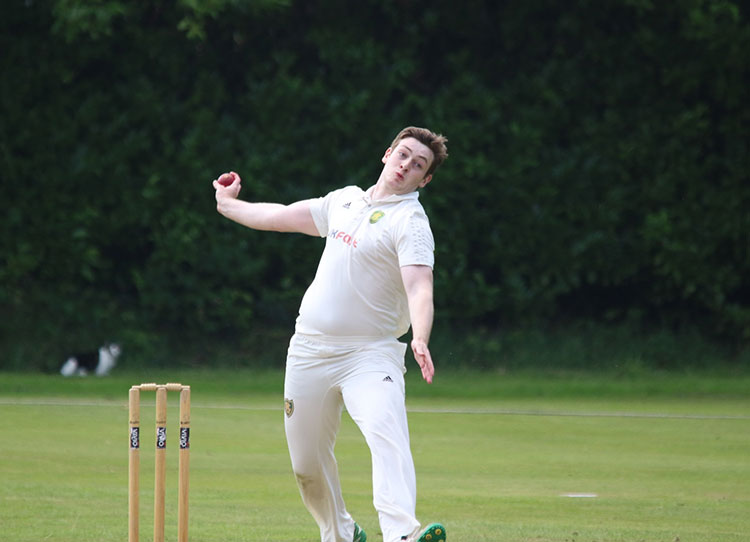 James Guest led the way with five wickets as Hale Barns Second XI surged to the top of the Division 2 West table by registering a convincing victory over a depleted Widnes CC side.
The hosts were superb in the field to restrict Widnes to a score below 100 before chasing down the target with relative ease, winning by six wickets in just 21 overs.
Barns got off to a flying start when Jack Wylie made a breakthrough in the first over the match, with Alex Curlett lofting his first delivery straight to Guest at cover.
Ian Spencer was offered an early reprieve after a mix-up running between the wickets was left unpunished, and he immediately looked to capitalise on his good fortune with an array of attacking strokes.
Having raced onto 28 in imperious style, HBCC were fearing the worst until Wylie managed to breach his defences by trapping the opening batsman lbw, while Charles Mills (1-25) then got in on the act with a wicket of his own.
Wylie (3-27) soon added a third scalp to his tally to swing the odds firmly in the home team's favour, reducing Widnes to 40-4 off 11 overs. James Wearden and Louis Burns (11) provided some respite for the visitors, but the latter was unable to keep out the clever cutters of Callum Schora (1-17).
Wearden's lengthy resistance was then broken by Guest as the left-hander was finally removed for 24, signalling the departure of the last recognised batsman. And Guest (5-18) made light work of wrapping up the lower order, cleaning up all four remaining wickets, with the final dismissal coming courtesy of a stunning grab by Stew Reynolds.
Chasing a mere 97 to win, Barns lost Clive Collins (8) early on, but remained well set to record a comfortable win with Reynolds and Sanjeev Bhatia together at the crease.
HBCC did wobble slightly, with Reynolds (12), Bhatia (19) and Tommy Smith (8) all departing as they slipped from 45-1 to 63-4, but James Fullerton-Batten (12*) and Andrew Willis (19*) ensured there would be no danger of a dramatic collapse.
The pair added 36 to cruise to the required total, with Willis finishing things off with a boundary to send Barns four points clear in top spot with four games left to play.