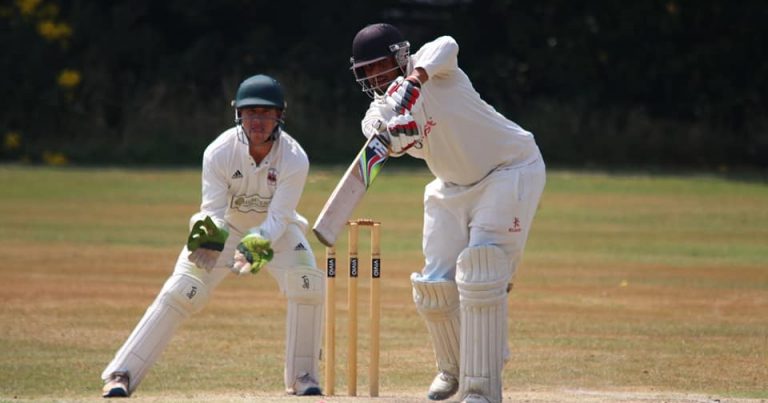 Hale Barns First XI captain Ben Hicks claimed a crucial wicket to secure a dramatic tie against Warrington CC after Joe Fretwell-Walsh had produced a five-wicket haul.
Tommy Smith and Khurram Hussain both recorded half centuries as Barns posted a reasonable score of 204 all out, but they were forced to settle for a tie following an excellent 77 from Jonathan Fletcher.
The home team made a strong start by scoring 44 runs in the first 10 overs, although they did lose Joe Cooper for 11. A second wicket fell soon after, but Smith and Hussain built a promising partnership to get the innings back on track.
The duo shared a stand of 62 before Smith was caught for 51 – his second successive fifty. Barns began to lose wickets at regular intervals, with Chai Gadepalli (3-55) gaining some success after a lengthy opening spell.
However, Hussain continued to accumulate runs quickly and became the second half-centurion of the innings before finally falling to Fletcher for an excellent 65 off 63 balls with the score on 173-6.
Hicks and Christian Dodson were intent on accelerating the run rate in the latter stages, but neither were able to see out the overs as Hicks (14) became Fletcher's second victim and Dodson was run out for 27.
And Barns were dismissed with 47 deliveries to spare after Fletcher wrapped up the innings, finishing with figures of 4-7 from 4.1 overs as Warrington were set a competitive target of 205 to win.
In reply, Warrington's openers were able to take a cautious approach to seeing off the new ball, knowing the team had seven extra overs to chase down the required total.
Hicks and Younas Saeed failed to make any inroads during their opening spells as Malcolm Agar and Liam Heaphy remained unscathed until Fretwell-Walsh was introduced into the attack and removed Agar (11) with just 26 runs on the board.
Fretwell-Walsh doubled his tally shortly after, while Cooper ended the stubborn resistance of Heaphy in the 21st over by trapping the opening batsman lbw for 30 off 66 balls.
Fletcher elected to adopt a more aggressive mentality as the visitors continued to lose wickets, with Fretwell-Walsh sending another batter back to the pavilion to restrict the score to 73-4.
James Hughes temporarily provided support to Fletcher to frustrate the home side until Cooper finally got the better of the number six batsman for 17, but Fletcher carried on his mission to lead Warrington to victory as he reached his half century.
However, after six fours and five sixes, Fretwell-Walsh made the vital breakthrough as he bowled Fletcher for a fantastic run-a-ball 77 with 52 runs still needed.
Fretwell-Walsh (5-68) quickly added a fifth dismissal, while Cooper (3-51) claimed his third to put Barns on top at 166-8.
Hicks returned to the action and immediately put the hosts on the verge of a second consecutive win after cleaning up Dan Rudd for 10, but Rob Batey kept Warrington's slim hopes alive alongside number 11 batter Gadepalli.
The pair appeared to have pulled off a miraculous recovery after putting on 26 together to tie the scores, but they were remarkably denied by Hicks, who skittled Gadepalli to leave Batey stranded on 26 not out and ensure the game would end with nothing to separate the two teams.