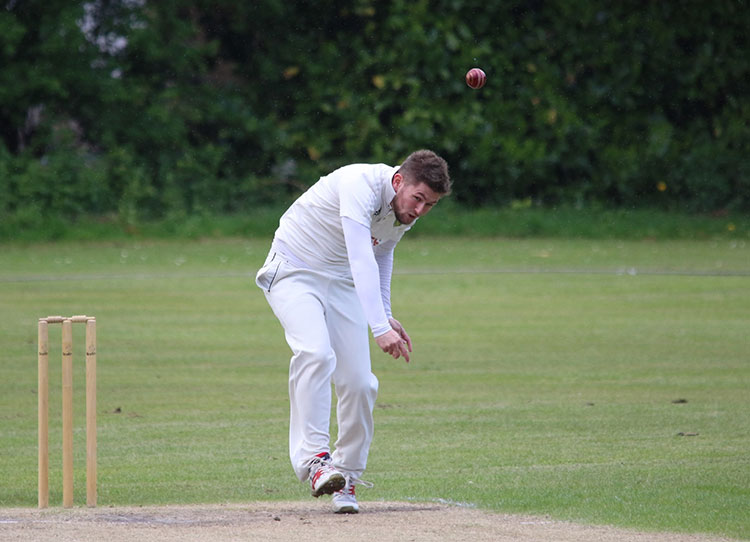 Hale Barns Second XI won for the first time in almost a month after a convincing display against Stockport CC led to a nine-wicket victory.
Following two successive abandonments, Barns made the most of some rare dry weather by seeing off their opponents in little over three hours, with Jack Wylie claiming his second five-wicket haul of the season.
The visitors fielded just 10 players and were immediately on the back foot after winning the toss and electing to bat. Peter Stubbs (1-25) was the man to break the deadlock before Wylie struck twice as the away side limped to 7-3 from the first 12 overs.
A brief revival saw Stockport take the score to 30-3, with opener Arslan Ghous (7) finally getting off the mark in the 14th over. However, Wylie soon doubled his tally with two quick wickets, including Sohail Abbas for 11 – the first batsman to reach double figures.
James Fullerton-Batten (1-9) then got in on the act with a simple catch off his own bowling as Stockport lost three batsmen for just six runs.
Wylie remained in the attack in search of his fifth victim and he finally claimed the milestone in his 15th and final over, completing his spell with six maidens and figures of 5-24 to extend his advantage as leading wicket taker in the division to five.
It was then left to Charlie Romer to wrap up the innings, taking just three deliveries to notch the last two dismissals, with Dylan Gair departing for 11, as Barns restricted the visitors to 54 all out in 29.3 overs.
Opening pair Tom Entwistle and Clive Collins were cautious early on in pursuit of the low target, scoring just 24 from 16 overs. Entwistle (11) was unable to see things through to the end, falling to a terrific catch at short mid-wicket, but that proved to be the only blip for the hosts.
With just 31 runs still required, the result was never in doubt as Collins compiled an accomplished knock of 27 not out, ably supported by an unbeaten 17 by Andrew Willis to lift Barns into fifth position in the table.