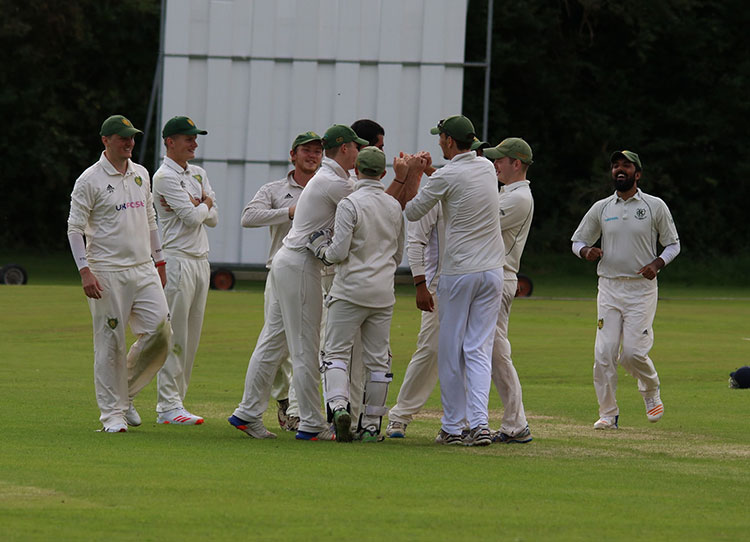 Ben Hicks and Younas Saeed were in devastating form with the ball, but Hale Barns First XI ultimately fell agonisingly short as they suffered the narrowest of defeats to Barrow CC.
Having stumbled to a very below-par batting total, Barns recovered magnificently to appear to be on the verge of victory, but a terrific last-wicket partnership earned the away side their first win of the season.
HBCC were immediately under the cosh after losing both openers inside four overs with just 11 runs on the board, although Khurram Hussain (16) and Rory Allan (15) provided a brief period of respite.
However, the duo both succumbed to the bowling of Joe Williams (3-39) in quick succession to reduce the hosts to 48-4. Captain Tommy Smith (13) and Tom Saddington (16) showed signs of restoring the innings, but S Malik (3-17) and Sultan Raja (3-19) ripped through the mid-to-lower order to cause a collapse from 48-4 to 80-9 with just 24 overs played.
Hicks managed to add 12 more to the total before becoming the last man out as HBCC were dismissed for just 93. Hicks was back in the action straight after the restart, taking a wicket in each of his first two overs to give the home team an ideal start in their pursuit of an unlikely resurgence.
In the blink of an eye, the odds were stacked in Barns' favour when Saeed claimed a trio of victims, including two in the sixth over, to restrict the visitors to 23-5.
Malik was the first batsman of the day to make a significant contribution, peppering the boundary with six fours and a maximum on his way to a quickfire 35, but his exciting cameo was halted by Hicks to put Barrow firmly on the ropes.
And the wickets continued to tumble, with Saeed (4-28) and Hicks (4-34) doing further damage, putting Barns on the brink of an incredible victory at 47-8.
Maneesha Nissanka showed impressive resolve to delay HBCC's celebrations and was ably assisted by Williams, who amassed 10 runs before eventually being sent back to the pavilion by Bilal Ahmed (1-15) with 29 runs still required.
And despite an onslaught from the Barns bowlers, the final pairing of Nissanka and Raja managed to gradually edge towards the target to set up a grandstand finale.
And it was Barrow who prevailed, capping off a remarkable fightback to secure a nail-biting one-wicket victory, condemning HBCC to their first league defeat of 2020.