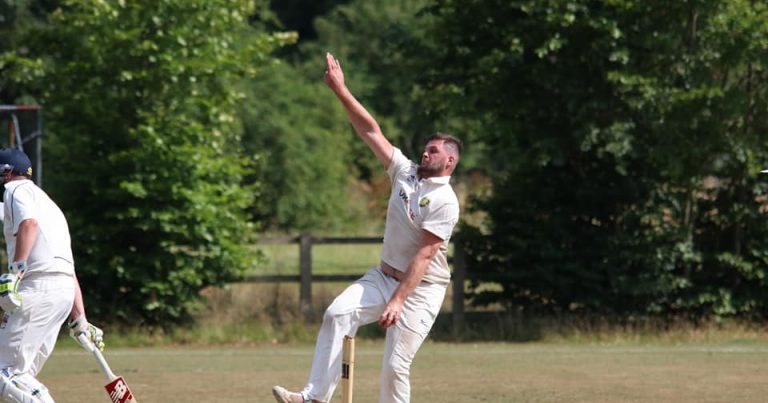 Hale Barns First XI captain Ben Hicks claimed his second five-wicket haul of the month to help the team secure a losing draw against Brooklands CC and extend their unbeaten run to five games in all competitions.
Khurram Hussain scored his third half century in four matches, but Barns were unable to chase down an impressive total from the hosts and were forced to hold out for a draw with two wickets in hand.
The day started well for the visitors as Hicks struck early with just 14 runs on the board and Younas Saeed (1-40) got in on the act to remove Mark Bloomfield for a breezy 24 off 23 deliveries.
Hicks added another to his tally and then Phil Dodd (1-38) got his name in the wickets column to reduce Brooklands to 97-4, but the league's leading run scorer Kevin Carroll looked particularly dangerous as he got into full flow.
Carroll smashed 70 off just 39 balls in a brutal display of boundary-hitting, amassing 5 fours and 5 sixes before finally succumbing to Joe Fretwell-Walsh with the score on 159-5.
Fretwell-Walsh (3-36) claimed another two victims, while Hicks returned to strike twice, including Ali Buchan for 41, but late order runs from Joe Gill (15 not out) and Rob Leach frustrated the Barns bowlers.
Hicks (5-47) eventually grabbed his fifth dismissal to send Leach (10) back to the pavilion, but Brooklands had the upper hand at the halfway stage having posted an imposing 229 all out from 47.4 overs.
Barns suffered a tough start to their run chase as AJ Hart (2-44) made early inroads with two wickets, but Joe Cooper and Ben Staniforth began to establish a solid partnership. However, both were soon sent on their way after Cooper was run out for 28, while Staniforth was trapped lbw by Leach to put Barns in a spot of bother.
Leach doubled his tally shortly after to reduce the away side to 113-5 from 26 overs, although Hussain looked assured and scored with fluency to give Barns a strong chance of survival.
At the other end, Leach (4-67) enjoyed a streak of dismissals and then Hussain's valiant resistance came to an abrupt end when he was run out by David Cunliffe for an excellent 64 to put Barns on the brink of defeat.
With just two wickets to spare and 20 overs still remaining, Fretwell-Walsh and Saeed elected to occupy the crease in a bid to save the game, rather than attempt to achieve the required target.
And despite some economical figures for the bowlers, a breakthrough never came as Fretwell-Walsh ended on 20 not out, while Saeed was unbeaten on 9 to complete the 52 overs on 166-8.