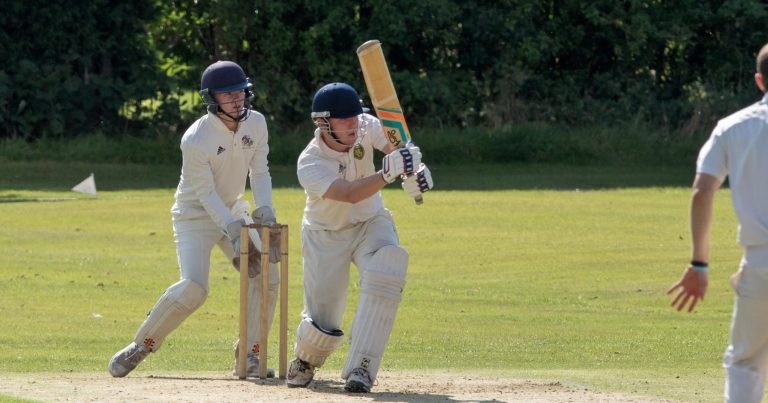 Joe Cooper starred with bat and ball as Hale Barns First XI took a giant step towards promotion with a 45-run against rivals Stockport Georgians.
Just two points separated the two sides heading into the game and Cooper's excellent half century, followed by three late wickets, proved crucial to extend Barns' lead in second place to 18 points in the Cheshire Cricket League Division One.
The visitors claimed an early scalp when the in-form Chris Colley (8) was dismissed early with the score on just 15, but Cooper and Mike Hunter held their nerve under tremendous pressure to build a vital partnership.
The pair added 101 together after a terrific display of resilience, but the innings stalled when the league's leading wicket taker James Locke claimed his first victim with the dismissal of Hunter for a hugely important 40.
And having appeared to be in prime position to accelerate the run rate in the closing overs, Barns slumped to 129-5 as Locke removed two more batsmen, while Oliver Ormerod gained two breakthroughs of his own, including Cooper for a magnificent 65.
The hosts rallied late on with Christian Dodson (15) and James Fullerton-Batten (17) contributing valuable runs in the latter stages, but the combination of Ormerod and Locke ripped through the lower order.
Having been 159-5, Hale were all out for 165 with 2.1 overs to spare as Ormerod (3-48) claimed one more wicket before Locke wrapped things up with four in quick succession to end with outstanding figures of 6-24 from 12.5 overs.
Despite recording a below-par total, Barns ensured they held the upper hand when Dave Saddington (1-21) and Ben Hicks sent both openers back to the pavilion for the loss of 10 runs.
Hicks has been in inspired form during the second half of the season and he continued to increase his tally with two more dismissals as Georgians saw their chances slipping away at 31-4.
Number three batter Nick Johnson maintained his focus while his partners fell at the other end as Barns seemed to be closing in on victory when Sam Smith (2-9) was rewarded for a tight seven-over stint by reducing the away side from 60-4 to 60-6.
Francis Yates (11) offered capable support to Johnson, becoming the only other batsman to reach double figures, but just as the match looked to be heading for a draw, Cooper (3-13) produced a match-winning spell to take three wickets in quick succession to put the home team on the brink of a stunning win.
And fittingly it was Hale's talisman Hicks (4-18) who finished things off to leave Johnson stranded on 72 not out as Georgians were all out for 120 to put Barns in the driving seat with two games remaining.