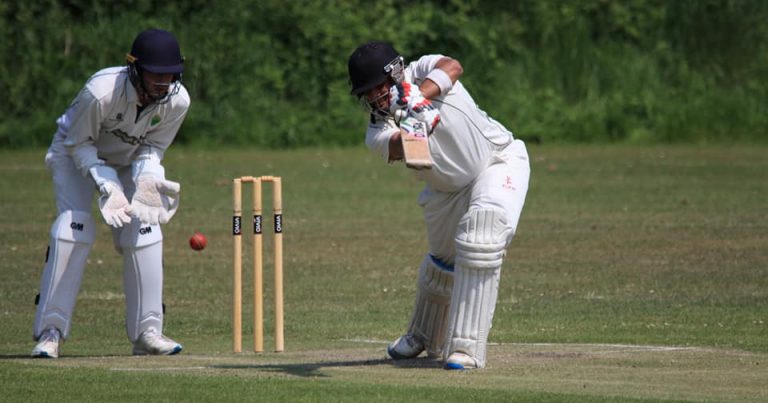 Hale Barns First XI cruised to a comprehensive victory by 128 runs against fourth-placed Alvanley CC to end a run of three league matches without a win.
Joe Cooper secured four scalps with the ball after Khurram Hussain had laid the foundations with an impressive half century as Barns damaged the home side's promotion hopes.
The visitors won the toss and had no hesitation in electing to bat first, but Tommy Smith was unable to take advantage of the ideal batting conditions as he made just 9 before falling to Billy Ouzounidis.
There was no further joy for the bowlers early on, however, as Cooper and Mike Hunter built a solid fifty partnership, although neither batsmen were able to register a big score having got themselves settled at the crease, with Cooper dismissed for 40, while Hunter was sent back for 32.
Hussain maintained the momentum with a flurry of runs and found support from Ben Hicks after Campbell Vadlja (11) and Peter Stubbs (10) had both come and gone.
The pair accelerated the run rate with an array of attacking strokes, with Hussain leading the way as he reached his first league half century for the club.
Ouzounidis returned to the attack and finally made the breakthrough, removing Hussain for 57, but they continued to toil in the sweltering heat as Dodson (15) enjoyed a short cameo and Hicks ended unbeaten on 43 as Barns posted 227-7 from their allotted overs.
Alvanley's run chase got off to a disastrous start as Younas Saeed struck in his first over and Hicks (1-26) soon followed with one of his own to leave both openers back in the pavilion inside the opening 10 overs.
Brief resistance from Simon Gee was brought to a halt by Saeed (2-27), while Cooper made Chris Wright his first victim for a duck as Barns appeared to be striding towards victory at a canter.
Jonathon Whitley was the only Alvanley batter to look capable of seeing off the bowlers and he struggled to find a partner for any sustained length of time, with Andy Bennion becoming the only other batsman to reach double figures before falling to Cooper for 11.
The hosts then went into self-destruct mode as Chris Charles was run out by Cooper before Joe Fretwell-Walsh used the same method to dismiss Mark Szymura, both without scoring, leaving Alvanley on the brink of defeat at 79-7 despite Whitley's success.
Fretwell-Walsh (1-14) was introduced as the fourth bowler used by Barns and soon added his name to the wickets column, but it was Cooper (4-26) who provided the major scalp of Whitley, whose eighty-ball defiance finally came to an end for 56.
And fittingly it was Cooper who completed proceedings with his fourth wicket as Alvanley were all out for just 99 from 34.4 overs, giving Barns breathing space of 50 points to the relegation zone.