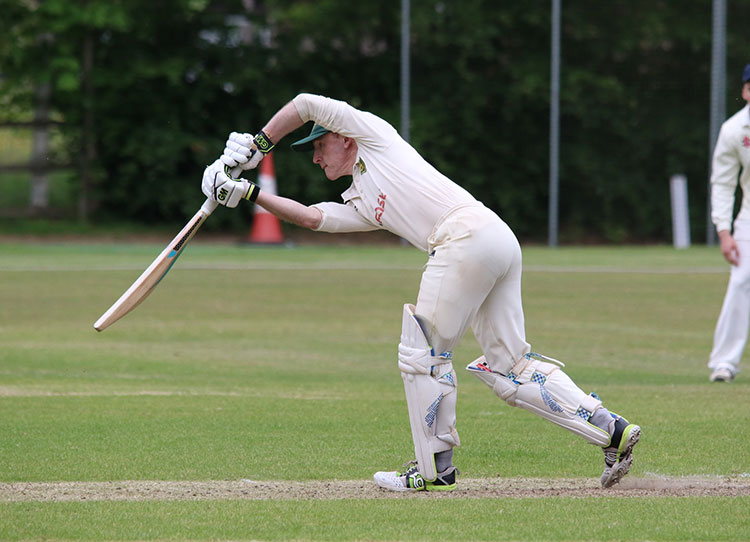 Clive Collins enjoyed a welcome return to form with an unbeaten 87 as Hale Barns Second XI secured a stellar five-wicket win against Neston Third XI.
Mike Hunter provided crucial support with a half century of his own, while Matt Tasker produced an exciting late cameo to help the hosts successfully chase down a target of 205 in 46 overs to move within seven points of the promotion places.
"It's a very good win for the team," Collins said. "It's never easy chasing any score over 200, so I really think that we can build on that over the next few weeks.
"I'm pleased to have spent some time in the middle – I always think that is important early in the season. I had a very useful practice session on Thursday with Sandy (Alex Ross) and I was concentrating on playing straight early on against the new ball. I'd been working on that and saw the benefits during the game.
"When I went out to bat with Mike at the start of the innings, the aim was to take the game as deep as we could as we probably didn't have our strongest batting line-up today. I do like batting with Mike and I thought he played really well – it was a very important innings.
"Matt also did a really good job for the team at the end. Having somebody come in at that stage and strike a few boundaries really did take the pressure off me."
The day began with HBCC on top after Charlie Romer claimed a run out in the second over, but they failed to make further inroads as Rohan Senoy and George Wilde made the most of the flat batting deck.
Wilde (36) was particularly aggressive in his approach, but played one lofted shot too many as he miscued a drive straight back to Dave Saddington (1-37), who made the breakthrough almost immediately after being introduced into the attack with the visitors on 65-2 in the 16th over.
Wickets proved difficult to come by for the home side, not helped by some sketchy fielding that saw Senoy and Sam Bowring dropped on a handful of occasions.
The pair capitalised on their numerous lives and put on 123 together, with both surpassing fifty. With three overs remaining, Ben Motamed finally removed Bowring for 62, while the young left-armer doubled his tally to end with impressive figures of 2-16 from eight overs.
However, none of the bowlers were able to dismiss opener Senoy, who carried his bat from start to finish to end on a gutsy 78 not out, with Neston completing their innings on 204-4.
In reply, openers Hunter and Collins applied themselves expertly, punishing the bad deliveries and showing some terrific running between the wickets as they comfortably remained unscathed after 30 overs.
However, their partnership abruptly ended on 112 when Hunter swept leg-spinner Rishi Muthuvelu and picked out the fielder at deep mid-wicket to conclude his innings on 54.
Muthuvelu (3-65) was soon on a roll as he claimed two more quick wickets, including a tremendous googly that beat Ahmed Choudhry (0) all ends up.
Stand-in captain Tom Saddington temporarily stemmed the tide with three fours and a six from his opening four deliveries, but was then undone for 18 by Bowring (1-24), while Motamed added 10 before being caught and bowled in the 38th over with 40 runs still required.
But any nerves were soon settled as Tasker struck five boundaries in an unbeaten cameo of 26, with Collins continuing to look assured at the crease as he hit the winning runs to end on 87 not out.