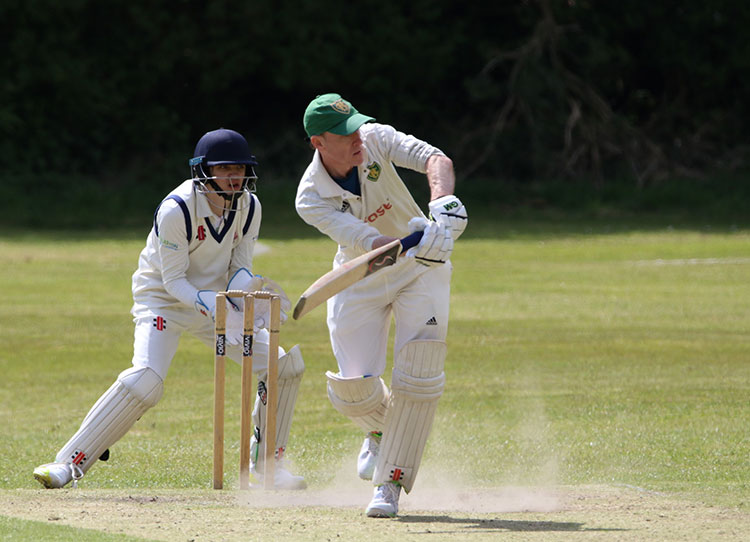 Hale Barns Second XI slumped to their first defeat of the 2021 season despite Clive Collins scoring his second successive half century.
Barns limped to a below-par total and were unable to turn things around with the ball as they suffered a disappointing seven-wicket loss to Neston CC.
The visitors struck an early blow as HBCC dropped to 1-1, but Sanjeev Bhatia and Collins provided some stability by carefully negotiating the opening 15 overs, although scoring proved difficult as they only managed to add 35 as a pairing.
Having battled to 16, Bhatia was bowled by David Collyer, causing a dramatic collapse. Veteran spinner Collyer (2-9) doubled his tally, while Neston skipper Paul Stimson also secured two victims, including an amazing caught and bowled diving to his weaker right side, which saw Barns slip from 36-1 to 39-5 in the 20th over.
Stimson recorded sensational figures of 11 overs, 9 maidens, 2-4, but was unable to make further inroads as Collins maintained his resistance, ably supported by Jack Wylie.
As a duo, they showcased terrific patience and determination to guide the hosts clear of a disaster, and eventually began to score more freely towards the latter stages of the innings, largely thanks to plenty of aggressive running between the wickets.
With three overs remaining, the pair loosened the shackles, leading to Wylie's downfall as he was caught on the boundary for a spirited 42 from 89 deliveries, ending a crucial partnership of 80.
Collins (56) managed to bring up a deserved fifty with a boundary, but was also dismissed attempting a big hit, with Chrissy Lacey (2-53) claiming the credit for concluding the opener's magnificent 140-ball vigil.
Barns eventually recovered to 134-7 from their allotted overs, but the away side responded well as Nathan Twidell and Russ Thompson rode their luck and somehow managed to remain unscathed for the first 15 overs with 46 runs on the board.
The introduction of Dave Saddington into the attack saw Twidell finally perish for 25, while Thompson (16) fell in the same over to a stunning piece of fielding from James Fullerton-Batten, who produced a direct hit run out to restrict Neston to 47-2.
However, Andrew Twidell and Tom Taylor (17) settled any potential nerves with a partnership 44 until Saddington gained his just reward for another excellent spell by getting his second wicket, registering 2-14 off 11 overs.
Barns failed to find any further joy, with A Twidell seeing the run chase home on 48 not out, while Graeme Rickman contributed an unbeaten 12 as Neston finished comfortable winners with 8.1 overs to spare.